The forum was the culmination of a longer process of reflection, consultation and input. Priests firstly met in their parish clusters to reflect on the inspiration for their own vocation. There followed a highly acclaimed input from Dr. Andrew O'Connell, Communications Officer for the Presentation Brothers and National Year of Vocation Committee member, at the pre-Easter diocesan clergy meetings. Behind the scenes preparation for the forum involved consultation with the priests' council of the diocese and also with the Vocations Committee, from whom came the original inspiration of having a Vocation forum.
Many of the large number of clergy who took part in this year's two and a half day diocesan forum on Vocation had positive things to say about it afterwards. The keynote speaker, Dr. Eamon Conway of Mary Immaculate College, Limerick, shared ideas on modern culture and its thought currents, mindsets and challenges. He followed this with some insights into the different ways clergy see themselves within their own priestly culture. Fr. Kevin Doran, previous National Vocations Co-ordinator for Ireland, led everyone in further reflection on the above and primed a sharing on the positives and negatives of Vocations promotion. A sizeable group of lay people joined the forum to hear Brenda Drumm of the Catholic Communications Institute speak energetically and sincerely about the upcoming Year of Vocation. Lay people and clergy worked together in groups afterwards on possible implications of what all had just heard.
One way or another, much of the colour and nuance of priestly thinking in the diocese vis-à-vis Vocation, and particularly Vocation to the priesthood, was expressed and reflected back in this whole exercise. There were many suggestions for action issuing from the final day. A lay/clergy diocesan Year of Vocation Committee, in the hands of Fr. Ian Fee, is being set up to carry forward the work of the forum and the initiatives of the National Year of Vocation. A number of priests volunteered to join the Diocesan Vocations Director, Fr. Séamus Quinn, in visiting secondary schools this coming winter, to ensure that no young man leaves school in the diocese without having been invited to consider priesthood as a way of life. A special ceremony to launch the Year of Vocation in the diocese, organised by St. Joseph's Young Priests Society in conjunction with the Religious of Ireland, was held at the Cathedral on the evening of Vocations Sunday. It is intended to act on several more of the ideas proposed at the forum as the year progresses.
PRAYER SPACE

FR SEAMUS QUINN (DIOCESAN VOCATION DIRECTOR) / BRENDA DRUMM CATHOLIC COMMUNICATION OFFICE

GROUP PHOTOGRAPH OF PARTICIPANTS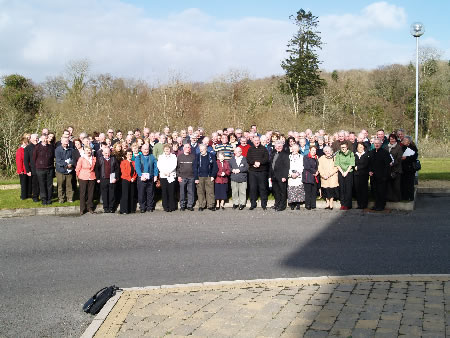 PARTICIPANTS HARD AT WORK

GROUP DISCUSSIONS

GROUP DISCUSSIONS